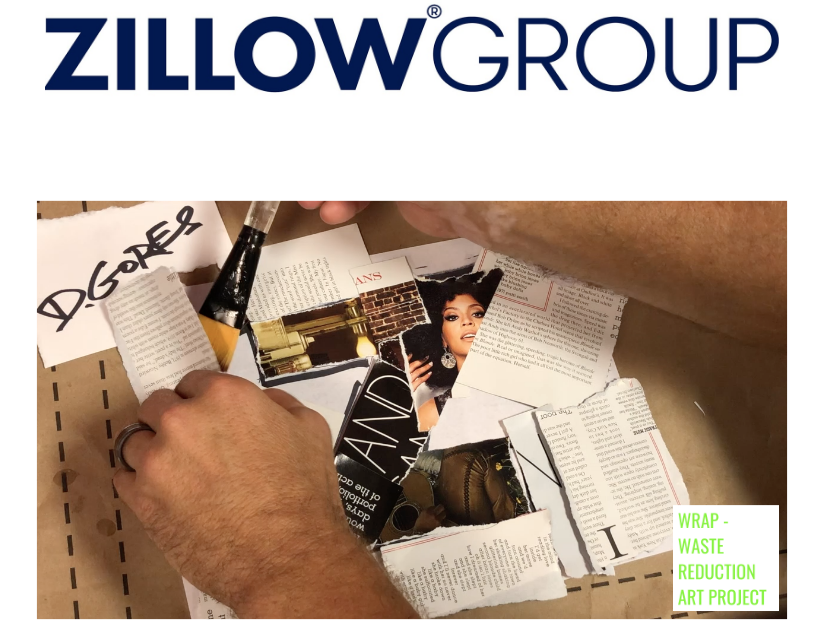 New York, NY, November 9, 2020 — WRAP – Waste Reduction Art Project is pleased to report that it successfully completed a virtual recycled art creation workshop led by the world renowned artist Derek Gores in the framework of Zillow Group's Mind-Body-Spirit event in October 2020.
Hundreds of Zillow Group's employees participated in this virtual event.
"This was such a great workshop. I was able to step away from work and enjoy arts and crafts with my children."
– Zillow Group's employee
"WRAP is honored to be partnering with Zillow Group in bringing this virtual recycled art creation program to Zillow Group's global employee base," says Yana Good Nigen WRAP's Executive Director, "These recycled art creation experiences unite teams, alleviate stress, and build resilience so much needed these days. We are in this together and art will help us heal and become stronger."
Derek Gores who conducted the workshop says, "Creating art lets the mind wander and have some breathing room so the imagination can play. When we can be creative and joyful in our imaginations, we then bring that spirit out into the real world as well."
About WRAP:
WRAP is a non-profit organization focused on keeping 1 million pounds of recyclable material out of landfills by 2030. We create new ways for companies to engage with the planet and the arts. We do this by working with corporations to bring more recyclable art and recycled art creation experiences into their offices. Our dedicated network is committed to connecting and educating local communities, while developing best practices and creating art from materials people throw away everyday. Our support helps local communities and drives innovation around new forms of degradable plastics and clean water preservation forward.